Whalley Church: Catterall Brass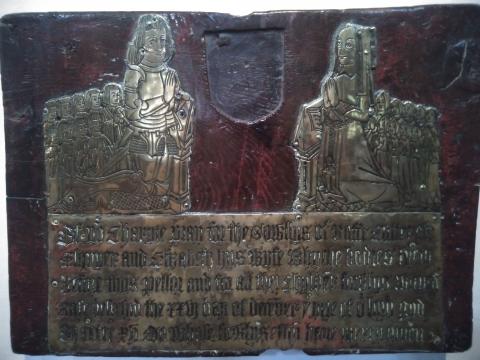 In Whalley Church, against its north wall, is fastened an ancient brass. It depicts a kneeling man in armour opposite a suitably attired kneeling wife. Behind him are his nine sons, and behind her, eleven daughters. The rather awkwardly written text reads:
Of your charity pray for the souls of Raffe Catterall esquire and Elizabeth his wife which bodies lie before this pillar and for all their children's souls. Which Raffe deceased the 26th day of December, the year of our Lord God 1515, on whose souls Jesus have mercy, amen.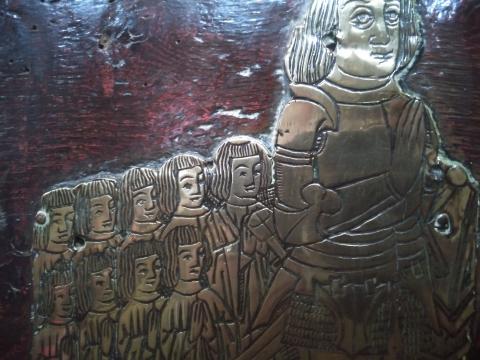 Such a large family would indicate that Mistress Catterall was a lady of iron constitution, or that she was Raffe's third or fourth wife. The request to pray for them is a typical pre-Reformation formula; expecting to burn in purgatory for many centuries, they hoped a quick prayer or two from us might lessen their pain and shorten their stay. Such popish doctrines were rightly dismissed at the Reformation, though they survived among the recusants and ancient brasses. Nevertheless, we have also a request from one or both parents that we pray for their children. Whereas scripture would not have us pray for the dead but the living, our intercession for others is a godly practice. I sometimes wonder if God better honours those prayers sent up for others' needs rather than for our own. If our requests primarily concern our own welfare, something may be amiss. Pray for others, therefore, and may they pray for you.
For God is my witness, whom I serve with my spirit in the gospel of His Son, that without ceasing I make mention of you always in my prayers. Romans 1:9, NKJV